Plastic Signs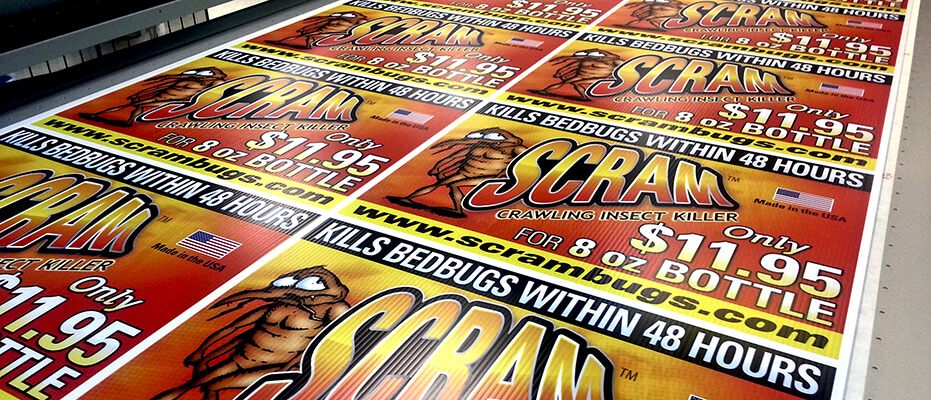 Corrugated plastic, also known by the brand name Coroplast®, is a versatile, extruded twin-wall plastic sheet. Lightweight and cost-effective, it is ideal for a wide variety of indoor and outdoor uses.
Plastic Sign Tips
Use corrugated plastic as a substitute for poster board or card stock for interior applications. Its surface is not affected by most oils, solvents or water, and cleans easily
Cut through the first corrugation to create A-frame signs or table tents. The cut will also enable you to fold the sign and carry it in a briefcase or suitcase
You may notice faint horizontal lines when you look at corrugated plastic. It is aligned with flutes that generally run horizontally across the width of the sign
Plastic Sign Applications
Menu boards
Special event signage
Directional and informational signs
Indoor point-of-purchase signs
Temporary and promotional signage
Tradeshows
Plastic Sign Ideas
Increase the effectiveness of your corrugated plastic signs by:
Using stripes, borders and additional lettering colors
Adding a logo or graphic symbol
Using frames or stakes, or displaying on an easel
Installation
Corrugated plastic signs may be displayed in several ways:
Hanging
Self-supporting (with an easel)
Applying suction cups
Using double-sided tape or Velcro®
Framing and staking
The Benefits of Plastic Signs
Plastic signs are a great way to advertise your business and make an impact with potential customers. At FASTSIGNS, we provide both engraved plastic signs as well as full-color printed signage that can be customized to fit any need or budget. Our plastic sign printing price is competitive, and our experienced professionals will ensure that you get the best quality product for your money.
Engraved plastic signs offer a professional and timeless look for both internal and external use. They are available in a range of colors, sizes, finishes, fonts, shapes and materials so they can be tailored to meet any need or design requirement!
Sign products and materials may vary by location. Contact your local FASTSIGNS® center for more information on product availability.